Bourne Engineers: Then, Now and the Future
Bourne Engineers: Then, Now and the Future
1849
Bourne Engineers has a very long local history, dating back to the early days of settlement in South Australia when the first Bourne arrived to Adelaide in 1849 aboard the Calphurnia and became the first registered Black Smith in this state.


Stanier Bourne set up business at Strathalbyn, working as a Blacksmith, building and repairing horse drawn farm equipment. He then moved to the small town of Mountain Hut to repair a broken axle on a water wheel at the nearby Bridgewater flour mill. While living at Mountain Hut his son Daniel Arthur Bourne was the first of the family to be born in Australia. The ensuing years saw the need to move west where the agricultural industry was booming and work would be more plentiful. The town of Price on the north east coast of Yorke Peninsula was the first base and after several years Daniel moved to Arthurton, in what is now known as Porter's Garage. While living at Arthurton Daniel met and married Lily Salina Beck.
1910
In 1910 the Bourne family moved back to the coast to Pine Point with their young son Howard Neville Bourne who was born at Maitland in 1908. At the age of fourteen years Howard began working with his farther, learning the trade of welding with the fire and anvil.
1935
In 1935 Howard (Jack) married Violet Ruby Austin and raised their three children Christine, Carlien and Austin at Pine Point. They continued living in the family home and operating the Engineering Business and General Store at Pine Point. In the following years Howard worked hard and forged his name and gained respect as a very skilled and ingenious engineer designing and manufacturing the bag elevator. This invention greatly alleviated and improved the manual intensive conditions for the workers In the grain stacks
During the War years Bourne Engineers was requisitioned to manufacture parts for the United States Army. Instead of farming equipment: meat hooks, parts for refrigeration equipment, hinges for truck trays and parts for the Bren gun were being manufactured at Pine Point. During the 1940"s orders of air compressor parts were also made for the Australian Government.
1959
With so much success and growth the business was registered as Bourne Engineers Pty Ltd in 1959.
During the onset of Bulk Handling from the late 1950's onwards the business not only provided employment but shopping facilities and housing for employees both locals and migrants alike. Since then it has continued to provide much needed employment to the people of the area including many of the Bourne family and extended family.
1960
At the age of fourteen, Austin began work in the engineering business just as his father had done. Only now instead of the fire and anvil Austin learnt to weld using the then modern electric and gas welding equipment. Austin took on his father's work ethics and ingenuity.
1960s Bulk Handling Equipment
During this time of the Bulk Handling "Revolution" Bourne Engineers grew from a father and son operation in a small shed to a work shop with up to forty employees. Orders for Hoists, Bag and Grain Elevators, Barley Rollers, Combine Fillers, Truck and Field Bins left Pine Point by the score for all over Australia.
Over the next 20 years Howard registered patents for over thirty original designs for machinery and equipment in both Australia and the USA.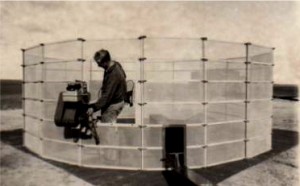 In the long line of equipment released was the Bourne Compound which, amid ridicule, proved its worth. Until now, no one believed that grain could be stored in the paddock unsheltered from the elements. So certain was Howard that the grain would not germinate or rot he bet a farmer from Curramulka that if the grain did spoil, while in the Bourne compound, he would reimburse the farmer for the grain. The grain was stored in the Bourne Compound for two years without being damaged.


To complement the Compound the Bourne Motorised Sweep and Elevator were manufactured. This was revolutionary equipment capable of moving up to one hundred tons an hour. Bumper crops in NSW had seen grain stored in bulk in aircraft hangars and sheds. Difficulty arose when the time came to retrieve the grain. Conventional augers had difficulty and Bourne Engineers were called to help. An aspiring Howard, with his wife Violet, towed a sweep and elevator to NSW. Amidst verbal jostling Howard set the machines to work. Not only did the Bourne equipment clear and load more grain than his competitors the speed was so great the trucks had trouble coping with the speed of loading. This exercise proved well worth while as word quickly spread and before long Bourne Sweeps and Elevators were in use all over Australia. Rail terminals at Gladstone, Kalgoorlie and many others along with silos at ports like Portland and Ardrossan used this system with Bourne Translators to unload rail trucks.

Howard and Austin showed the now well renown Bourne machinery at field days held on farm properties all over South Australia and closer to home on the farms of Harold Davey, Rex Clift and the Thomas family just to name a few. Ironically the farming property which was to become Austin's home was where the first stone loader had its public trial which was broadcast through the ABC. Bourne Engineers Pty Ltd was always well represented at the Royal Adelaide Agricultural Show and other country town shows until the inception of Field Days which were more suited to show casing the machinery. The focus soon switched to attending these events in Victoria, NSW, WA and of course Cleve and Paskeville.
1960s Level Ride Tandem Trailers
Howard also designed the Bourne Tandem Trailer with its unique Level Ride Spring system and robust construction which has been utilised as a base for Stock Crates, Horse Floats and Camper Trailers.
1960s Stone Clearing Machinery
In the mid sixties Howard Bourne realised, like many farmers, the need to turn stone infested country into arable land. A means of picking stone mechanically was needed to replace the back breaking and time consuming manual work.


Violet always related the story of Howard's inception of the idea of what would become the Bourne Automatic Stone Loader. "Sitting at the lunch table Howard was playing with his tea cup and saucer. He turned the saucer upside down and spun it in his hands. It picked up a tea bag and suddenly it dawned on him" Although his idea was met with scepticism by his employees Howard was undaunted and together with his son, Austin, manufactured the first machine using a flat "saucer" shape disc to feed the stones onto an elevator. Its rugged simple design was capable of loading 5 tons of stone in three minutes and can be towed by a small tip truck or tractor with a tip trailer. The machine worked and to date was the first of nearly one thousand machines. A few years later the Bourne "V" Rake was designed. This configuration cleared almost 15 feet wide leaving the stones in rows to be picked up by the Bourne Automatic Stone Loader.
1970s
Next, through collaboration between Howard and Austin, the Bourne One Way Rake was designed to enable stones to be raked over from one row to another creating a heavy enough row to warrant the use of the Stone Loader. This was of great advantage where there was a lighter stone coverage. The manufacture of the Bourne Tip Trailer completed the stone clearing needs for farmers.
Bourne manufactured farming equipment was now sold all over Australia and globalization occurred with sales, in particular, of the Bourne Automatic Stone Loader, to overseas countries including Canada, South Africa, Japan, United Kingdom, France, Mauritius and Mexico. The success of this machine was unmatched by any competitor in terms of speed, reliability and how clean and undisturbed it left the ground.
1990s
Over the years Bourne Engineers Pty Ltd has continued in general engineering, repairs and reconditioning of Stone Loaders. More and more of the parts for the Bourne machines have been manufactured at Pine Point lessening the dependency on suppliers. The change in farming techniques and requirements has seen modification to existing machinery. The Bourne One Way Stone Rake released in 1999 was fully hydraulically adjustable.


The business of Bourne Engineers Pty Ltd has always been family owned and operated with both Howard's wife, Violet and then Dianne, Austin's wife supporting their husbands by managing the accounts and secretarial side of the company. With the involvement of the fifth generation of Bourne's at Pine Point the continuity of the business is assured. Austin's four daughters, Colleen, Bronwyn, Sonya and Emily have taken a keen interest and spent time working with their father at various times.
2003
In 2003 Austin and Dianne's youngest child, Steven, repeated history beginning work at the engineering business and supporting Austin on the family farm. With other relatives employed Bourne Engineers continues to be a family based business committed to servicing the farming community with "Bourne" machinery now delivered by Austin or Steven throughout Australia.
---
Special Milestones
2009
Bourne Engineers Pty Ltd a registered business .for 50 years
2010 A double milestone.
Austin Bourne (now Managing Director) celebrated 50 years in the business.
100 years of a continuous Bourne family operated business at Pine Point.
2013
Steven Bourne's 10th year of involvement.
2018
A new shed and office build is completed to house modern workshop machinery.
Featuring

:

Bourne 50 Tyne One Way Stone Rake.

First machine to be manufactured in new Workshop
2019
We gain one new employee. A young school leaver.
Steven marries in March and we officially welcome his wife Melissa to the Bourne family and business team.
New main workshop and office have been fully operational for one year in May.                                                     
2020
110 years of a continuous Bourne family operated business at Pine Point.
---
The Future
The staff of Bourne Engineers Pty Ltd looks forward to the future acknowledging our ancestors who so typified the virtues that are truly the Australian way of life of hard work and fortitude through both the prosperous and hard times.
This brief outline of the Bourne family history is a tribute to Howard Bourne, his father and grandfather and their families. This information was compiled by Austin, Dianne & Steven who wish to thank Bronwyn (nee Bourne) and her husband Andrew Searle for the original researched information sourced from the memoirs of Violet Bourne.